QUB(Cubechain QUB), 글로벌 거래소 상장 소식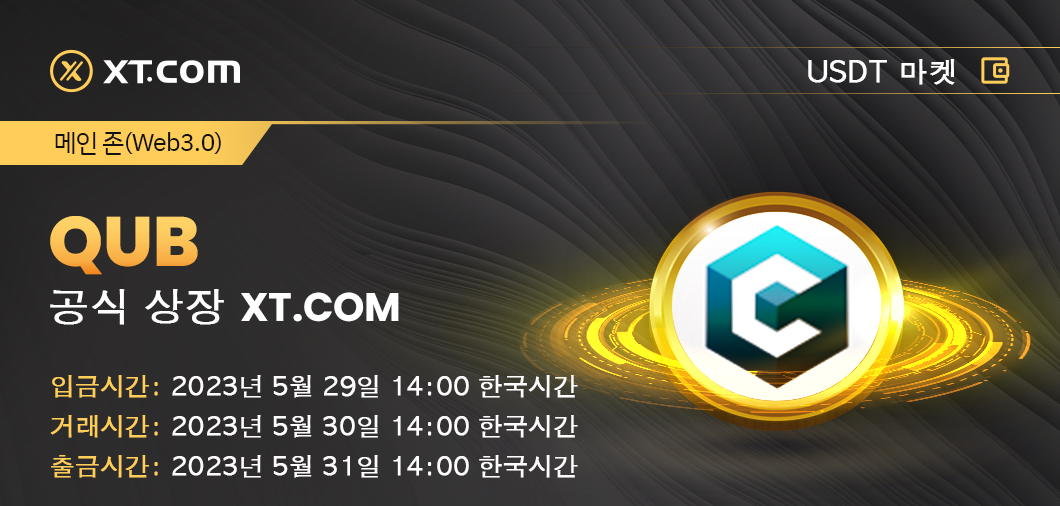 안녕하세요.
2023년 5월 30일 14시, QUB 프로젝트가 글로벌 거래소 XT닷컴 메인 존 USDT마켓에 상장하여 거래를 시작할 예정입니다.
자세한 상장시점은 아래와 같습니다.
QUB/USDT
입금시간: 2023년 5월 29일 14:00 한국시간
거래시간: 2023년 5월 30일 14:00 한국시간
출금시간: 2023년 5월 31일 14:00 한국시간
메인 존 (Web3.0)
[Coin QUB]
Cube Chain has been operating mainnet service since 2019 for more than 3 years along with Cube Wallet and Cube Scan.
Also, it has excellent suitability for services such as WEB 3.0, Metaverse, AI (ChatGPT), NFT, and Digital Sign.
Cube Chain has an extended structure based on cubes rather than blocks. It is a data chain that is differentiated from any blockchain so far, and Cube Chain is a blockchain platform that has been designed based on an original design to prepare for the future, and has been verified for its fast speed, high security, and scalability.
In addition, we operate a POW + POS hybrid mining method, POW participation inquiries can be made by email help@cubechain.io, and POS participation can be participated with a minimum quantity of 5,000 QUB in cubechainwallet.
Cube Chain Structure
Parallel structure block chain that processes 24 data blocks and 3 special blocks simultaneously.
Block, Pattern block (block relationship within Cube), Cube Triple Layered Chaining.
Advantages of Cube Chain
Speed improvement through parallel processing technology CMP (Cubing Multi Process).
Possession of strong security and quantum resistant technology using 4 types of hashes 55 times.
Stable decentralization through the POH consensus algorithm that combines the strengths of POW and POS.
Flexible data expansion and API interoperability through special blocks.
Blockchain Trilemma complementary solution
Low fees and high scalability applicable to various NFT businesses.
Safe security and excellent speed that can be used as a metaverse market-based technology.
Possession of outstanding technology that can be applied to all fields of industry.
Blockchain patent acquisition
Cube chain type data management engine and data management method
Cube chain type data management engine and data management method including escrow block
Cube chain type data management engine and data method including statistical blocks
Submitted Blockchain Patent Application
Connection method of blocks in block chain
자세히 보기:
https://xtsupport.zendesk.com/hc/en-us/articles/18614438399641
QUB 상장 많은 관심부탁드립니다!